<![if !IE]> <![endif]>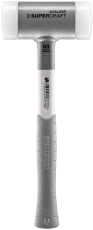 If you often work with oily hands, you should reach for the non-rebound SUPERCRAFT soft-face mallet with 3-component handle, whose non-slip rubber coating prevents the hammer from slipping out of your hand.

The tubular head of the SUPERCRAFT mallets is filled with steel shot. The resulting effect is that the energy of the steel shot is transferred with a slight delay when the mallet's contact surface hits the workpiece. The reduced rebound allows the impact energy to be absorbed with perfect efficiency. The result is impact of exceptional magnitude. What is more, SUPERCRAFT mallets allow for work with greatly improved safety, reduced strain on the joints and greater noise-dampening when compared to ordinary steel mallets.

The replaceable inserts offer outstanding impact qualities and are guaranteed to combine maximum strength with unique durability. They consist of extruded and extremely homogeneous material. Compared to injection moulded plastic inserts, they are therefore considerably more wear-resistant and durable and will never chip even in sub-zero temperatures.

The 3-component handle is comprised of a break-proof, flexible fibre-glass core coated with an ergonomic polypropylene layer and an elastomer layer, which provides for a secure grip even with oily and greasy hands. The wear-resistant powder coating of the head prevents corrosion. All weld joints are completely robot-welded. Extremely tight and of premium quality, a welded connection between impact plate and hammer head keeps the steel shot filling from escaping even under maximum load. This version is available in sizes ranging from D40mm to D60mm.

Erwin-Halder-Str. 5 -9
88480 Achstetten
Germany
+49 739270090

+49 7392 7009160