<![if !IE]> <![endif]>

POLIBRAS Abrasivos e Polimento, S.A.
Rue de S. Tiago 1088
4805-437 Ronfe/Guimaraes
Portugal
+351 253540020

+351 253 540022

List of product entries
This exhibitor shows the following products and commodity groups:

Product sector
Industrial Supply

Product emphasis
Power Tools (hand-held, stationary) and accessories

Target and sales markets
Australia
Brazil
Canada
China
Japan
Mexico
Middle East
New Zealand
Northern Europe
Others Eastern Europe
Others Oceania
Others South America
Russia
South Africa
Southern Europe
Turkey
USA
Western Europe

Company & products
Products
Mixed Flap Brushes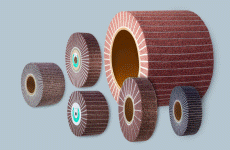 FLAP-MIX: Mixed nonwoven/coated abrasive flap brushes and rollers

Diameter: 70 mm – 450 mm
Width: 20 mm – 1650 mm
Bores: 35 mm – 280 mm
Material combination: On customer request
Impregnation: Possible, up to width 1200 mm


Mixed Flap wheels are made out of strips of abrasive cloth interleaved with strips of non-woven abrasive glued around a central fibre core.

In comparison to regular non-woven abrasive flap wheels, these wheels offer a higher cut power while maintaining a good finishing.

The wheels can be cut under request and can have different combinations of materials and amount of abrasive cloth strips between two non-woven abrasive strips.

>> Gentle grinding, without vibrations and little noise.
>> Removal of scratches and finish.
>> Used on hand-held and stationary grinding machines.
Trademark

3M

---

Dimabras

---

Paco

---

Polibras