<![if !IE]> <![endif]>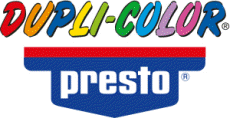 European Aerosols GmbH
Kurt-Vogelsang-Str. 6
74855 Haßmersheim
Germany
List of product entries
This exhibitor shows the following products and commodity groups:

Product sector
Home Improvement

Product emphasis
automotive supplies and accessories, two-wheeler accessories
chemical products

Target and sales markets
Australia
China
Japan
Middle East
Northern Europe
Others Eastern Europe
Russia
Southern Europe
Turkey
Western Europe

Brands:

ColorMark
ColorMatic
DUPLI-COLOR
MOTiP
presto
Company & products
Products
DUPLI-COLOR AQUA ECO+
The new water-based paint technology.

VEGAN PAINT
No animal products are contained in the paint. In addition, the paint and its components have not been tested on animals.

NEARLY NO SOLVENT
The extremely high water content of an aerosol tends to foam. To avoid this, approx. 4% butyl acetate ensure for a defoaming effect in AQUA ECO+. Unfortunately, however, these addition count as solvents.

EXTREMELY FAST DRYING
The painted object is ready to touch after only 60 minutes. One of the fastest drying times for a water based spray paint.

PERFECT ADHESION
By using special adhesive resins, the use of additional primers is often superfluous. Even polystyrene, stainless steel or aluminium can be painted without any problems.

TREND COLORS AVAILABLE
Official trend colors 2021 make the colorful assortment very attractive and up-to-date for all fashionable DIYers.

ODOURLESS
AQUA ECO+ is a PU dispersion and therefore very similar in smell to a conventional wall paint.

NEARLY POLLUTANT-FREE
The modern AQUA ECO+ spray is especially suitable for painting children's toys. It is also sweat and saliva resistant according to the current DIN standard.

THE NEW ASSORTMENT
Assortment 1: trend-shades
Delicately dreamy flower tones with green Indian tea and distinctive pink create a refreshingly natural color palette that expresses sheer joy of life. Radiant, but still pastel, hard, but at the same time soft colors like Smooth Ember red show a dynamic contrast. All trend color shades offered in a timelessly elegant matt-gloss finish.

Assortment 2: RAL-shades
RAL colors are binding color specifications. The most relevant color shades in DIY are considered here. Here as well the elegance is evident in the matt color range. The range is supplemented by top sellers in gloss, effect colors gold and silver, and two protective clear coats.
Trademark

ColorMark

---

ColorMatic

---

DUPLI-COLOR

---

MOTIP

---

presto