<![if !IE]> <![endif]>

List of product entries

This exhibitor shows the following products and commodity groups:

Product emphasis
Hand Tools
Power Tools (hand-held, stationary) and accessories

Target and sales markets
Middle East
North Africa
Northern Europe
Others Eastern Europe
Others South America
Russia
Southern Europe
USA
Western Europe

Company & products
Products
Diewe Master Drive® A-TriX® Dynamix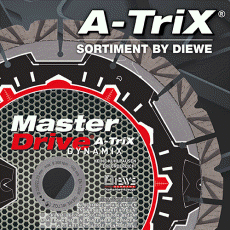 DIEWE A-TriX® tool family

For a longer service life, higher cutting, grinding and drilling speed.

The DIEWE A-TriX® range with the innovative A-TriX® segments for significantly longer life and tool life. All products in this range have a high concentration of diamonds with precise arrangement in an exactly consistent geometric pattern for extremely consistent performance!

• Diamond cutting disc MasterDrive® A-TriX® DynamiX in super premium quality. Available in diameter 115 mm to 450 mm. For all hard materials and problem materials from granite to concrete to general site materials.

• Diamond cup wheel A-TriX® Fintail in premium quality. In diameter 125 mm and 180 mm, impulse welded, with overburden optimised carrier body design for industrial concrete, granite and concrete.

• Diamond countersink MasterDrive® A-TriX® Blitz in super premium quality. With M16 holder in diameter 68 mm and 82 mm, with side or banana slot. Ideal for drills with soft impact for optimised dry drilling in concrete, highly compacted sand-lime brick and hard materials with a bulk density > 2.0.

• Diamond drill bit A-TriX® 3Speed in Premium Plus quality with 1-1/4" mounting, laser-welded. Available in diameters 52 mm to 132 mm (special sizes on request). Ideal for optimised dry drilling in concrete with soft impact machines and dust extraction for sand-lime brick of all raw densities, reinforced concrete and masonry.

DIEWE diamond tools - solutions for professionals.
Trademark

DIEWE GmbH Diamantwerkzeuge