<![if !IE]> <![endif]>

List of product entries

This exhibitor shows the following products and commodity groups:

Product sector
Fasteners and Fixings, Fittings

Product emphasis
fixing and fastening technologies

Target and sales markets
Northern Europe
Southern Europe
Western Europe

Company & products
Products
Retail concept DIY store: ropes, chains and accessories, with adjusted point of sales material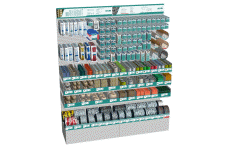 Snuro is Corbeo's international brand for ropes and accessories. With a smart range of products, Snuro targets retailers in the European market. Our offer includes natural and synthetic ropes, chains, steel wires and accessories, but with focus on high-revenue products. We help retailers offering this specialized product range without hassle.

We convey our company vision in our retail brands, and so Snuro is a sustainable product line with respect for quality and standards. The packaging f.ex. is done with as little plastic as possible. The product information is available in 7 languages. As such, a wide European region can be supplied with the same items.