<![if !IE]> <![endif]>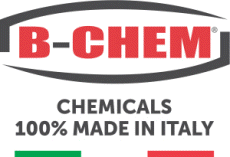 B-CHEM srl
Via Enzo Ferrari 68
62012 CIVITANOVA MARCHE (MC)
Italy
List of product entries
This exhibitor shows the following products and commodity groups:

Product emphasis
chemical products
Power Tools (hand-held, stationary) and accessories

Target and sales markets
Australia
India
Middle East
North Africa
Others Central America
Others Eastern Europe
Russia
Turkey

Company & products
Products
B-FIX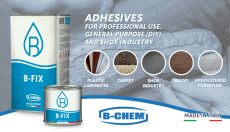 B-FIX is a polychloroprene adhesive available in different formulations respectively for general and professional purpose (DIY).The general one is suitable for bonding plastic laminates (eg. formica), carpet, textiles, rubber, cork, synthetic leather, and hide to each other or to rigid materials such as wood, refined or unrefined sheet metal, plastic and other. The other versions are also suitable for reliable and permanent bonding usually in the same applications and furthermore can be used in the shoe industry, also in a transparent solution.
Trademark

ABU JAMAL

---

B-CLOR

---

B-FIX

---

B-PREN

---

B-PUR

---

B-SOLV

---

B-VINYL

---

FAST

---

GRANI-CHEM

---

HYPERKIT

---

Marmolit

---

REMOPLUS

---

SUPERMASTICS

---

THINNER B109

---

VITO

---

WAXLIT