<![if !IE]> <![endif]>

109TOOLs
Songak-ro 603
31727 Dangjin
Korea, Republic of
List of product entries
This exhibitor shows the following products and commodity groups:

Product emphasis
Hand Tools

Target and sales markets
Northern Europe
Southern Europe
Western Europe

Company & products
Products
Drywall plane cutter and Miter angle finder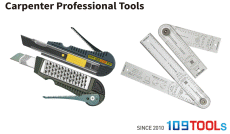 Drywall plane cutter

The drywall plane cutter, invented by 109 Tools, is a world-first specialist tool integrating four functions required for conventional drywall work. This practical tool provides the user with a one-stop tool saving time and money.

Miter angle finder

109Tools Smart Protractor can rotate 360° to measure and find any internal or external angle. Suitable for most materials or surfaces. The Protractor can provide measurement angle value dimension on the scale and four different miter cut values next to the scale.