<![if !IE]> <![endif]>

TKW Elektrotechnische Spezialkabel Leitungen & Zubehör
Am Knipprather Busch 29
40789 Monheim
Germany
List of product entries
This exhibitor shows the following products and commodity groups:

Product sector
Industrial Supply

Product emphasis
workshop and factory equipment, industrial supplies, protective equipment

Target and sales markets
Western Europe

Brands:

POWERSAFEBOX
POWERSAFEBOX®
TKW PURFLEX
TKW PURFLEX®
Company & products
Products
POWERSAFEBOX®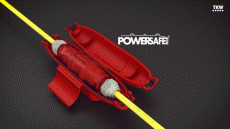 Our POWERSAFEBOX® was developed according to the motto "Safety First" and offers
Construction sites, festivals, folk festivals and the industrial site a significant added value
safety and functionality. With the use of the POWERSAFEBOX® you get one
maximum permissible plug connection. Accidental disconnection of the plug connection
can thus be avoided.
Trademark

POWERSAFEBOX®

---

TKW PURFLEX®