<![if !IE]> <![endif]>

List of product entries

This exhibitor shows the following products and commodity groups:

Product sector
Home Improvement

Product emphasis
Hand Tools

Target and sales markets
Australia
Canada
Middle East
New Zealand
North Africa
Others Eastern Europe
Russia
South East Asia
Southern Europe
USA
Western Europe

Company & products
Products
SOLA Digital Series with Bluetooth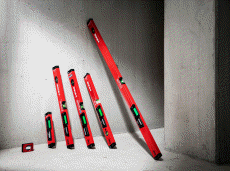 The products of the SOLA Digital Series are among the top products in the SOLA range with their highest measurement accuracy and features. This includes the following measuring tools with a digital display and Bluetooth interface for use with the free SOLA Measures app:


RED DIGITAL: digital spirit levels

The RED DIGITAL spirit levels impress with the highest level of precision, robustness and ease of use. They are used wherever inclines, gradients or angles have to be determined quickly and precisely. Available lengths: 25 cm, 60 cm, 120 cm. The RED DIGITAL is also available in a magnetic version (REDM DIGITAL) and with an integrated laser (RED LASER DIGITAL).


GO! SMART: digital inclinometer and protractor (Red Dot Design Award Winner 2022)

At just 8 cm, the GO! SMART combines the functions of a spirit level, an inclinometer and a protractor in one device. Equipped with a rotatable backlit display and a magnetic base with a V-groove, there are a wide range of possible applications - e.g. when adjusting the angle of saw blades.


METRON: laser distance meters

The laser distance meters of the METRON series impress with the highest level of accuracy and a wide range of measuring functions. The series includes three models for distances of up to 30 m (METRON 30 BT, 6 measuring functions), 60 m (METRON 60 BT, 9 measuring functions) and 80 m (METRON 80 BTC, 16 measuring functions, pointfinder camera).


CITO: digital tape measure

The CITO tape measure measures lengths of up to 5 m and shows the measured value digitally on the display - optionally in mm or cm. For the different measurement requirements, the CITO has two reference points that can be set quickly: the measurement can be carried out either from the front or rear edge of the device.
SOLA Spirit Levels with Lateral Magnet Installation
SOLA Laser Technology