<![if !IE]> <![endif]>

Prebena Wilfried Bornemann GmbH & Co. KG
Seestr. 20 - 26
63679 Schotten
Germany
+49 604496010

+49 6044 9601820

List of product entries
This exhibitor shows the following products and commodity groups:

Product sector
Fasteners and Fixings, Fittings

Product emphasis
fixing and fastening technologies

Target and sales markets
Australia
Brazil
Canada
China
Colombia
East Africa
India
Japan
Mexico
Middle East
New Zealand
North Africa
Northern Europe
Others Central America
Others Eastern Europe
Others Oceania
Others South America
Russia
South Africa
South East Asia
Southern Europe
Turkey
USA
West Africa
Western Europe

Company & products
Products
Verschiedene Heftklammern als zertifiziertes Bauprodukt mit Europäischer Technischer Bewertung als Holzverbindungsmittel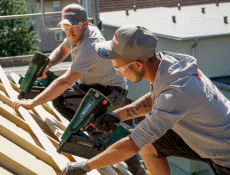 Druckluft-Akku-Nagler mit PKT-HYBRID-Technologie bis 100 mm für Halb- und Rundkopfnägel aus dem Hause PREBENA
Komplett unabhängig von Gaskartusche, Netzkabel und Schlauch bieten die neuen Druckluft-Akku-Nagler von PREBENA eine maximale Arbeitsfreiheit und sind überall einsetzbar.
Mit dem patentierten Kartuschennagler-System PKT, kurz für PREBENA Kartuschentechnik, hatte das Unternehmen bereits ein mobiles Kartuschensystem auf Druckluft-Basis im Portfolio, das das Unternehmen nun mit der leistungsstarken CAS-Akku-Technologie kombiniert. "Druckluftgeräte machen nach wie vor den Großteil unserer Produkte aus", sagt Werner Rücklinger, Geschäftsführer von PREBENA. "Trotzdem sehen wir in der Akku-Technologie die Zukunft des mobilen Arbeitens. Wir wollen unseren Kunden beide Technologien bieten – und haben uns deshalb für die neue PKT-HYBRID-Linie entschieden. Und durch ein herstellerübergreifendes Akku-System wie CAS (Cordless Alliance System) können unsere Anwender nun auch noch weitere Maschinen und Geräte nutzen, die sie in ihrem Arbeitsalltag über Befestigungsmittel hinaus benötigen." Die Spezialgeräte für die Holzbearbeitung von Mafell in Verbindung mit der breiten Produktpalette von Metabo beispielsweise seien da die perfekte Ergänzung zum PREBENA Sortiment, meint Rücklinger. "Nehmen wir einen Dachdecker: Bei Befestigungsarbeiten wie beispielsweise dem Ausbau der Unterkonstruktionen und Stützwinkel nimmt er einen Akku-Bohrhammer von Metabo. Die Dachlatten schneidet er mit einer Akku-Tauchsäge von Mafell zu und befestigt sie anschließend mit einem Akku-Nagler von PREBENA."
Das neue PKT-HYBRID-Programm besteht vorerst aus 2 Modellen, je einem Rundkopf und einem Halbkopfstreifennagler mit kurzem oder langem Magazin für Nägel von bis zu 100 mm Länge und das bei sehr kompaktem Design.