<![if !IE]> <![endif]>
MESTO Spritzenfabrik / Ernst Stockburger GmbH
Ludwigsburger Str. 71
71691 Freiberg
Germany
+49 71412720

+49 7141 272100

List of product entries
This exhibitor shows the following products and commodity groups:

Product emphasis
Hand Tools
Power Tools (hand-held, stationary) and accessories

Target and sales markets
Australia
Brazil
Canada
China
Colombia
East Africa
India
Japan
Mexico
Middle East
New Zealand
North Africa
Northern Europe
Others Central America
Others Eastern Europe
Others Oceania
Others South America
Russia
South Africa
South East Asia
Southern Europe
Turkey
USA
West Africa
Western Europe

Company & products
Products
MESTO No. 3615S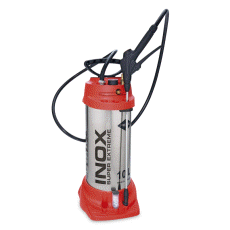 High compression sprayer "MESTO INOX SUPER EXTREME" (picture) joins in an optimal way the robust stainless steel tank (working pressure 88 psi) with the chemical resistance of a plastic tank. The equipment of the sprayer includes beyond an integrated air filler valve and an ergonomically formed shut-off valve (with integrated fine filter) a special spray wand made of stainless steel as well as a chemical resistant special flat jet nozzle. To be prepared for many applications, this professional high compression sprayer is equipped with a chemical resistant special hose. In addition, the sprayer is available with FPM or EPDM gaskets according to the liquids. High stability on transport and work is ensured by the stable foot ring that even protects the tank from damage. To simplify working, MESTO offers a wide range of accessories, for example a transport trolley, back carrying system, extension wand and nozzle.