<![if !IE]> <![endif]>

Jewel Blade Ltd
Penistone Road 442
SHEFFIELD S6 2FU
United Kingdom
+44 1142496810

+44 114 2852473

List of product entries
This exhibitor shows the following products and commodity groups:

Product emphasis
Hand Tools

Target and sales markets
Australia
Canada
Middle East
New Zealand
Northern Europe
Others Eastern Europe
Russia
South Africa
Southern Europe
Turkey
USA
Western Europe

Brands:

JEWEL BLADE MADE IN SHEFFIELD
Company & products
Products
XL Premium Silver & Gold Range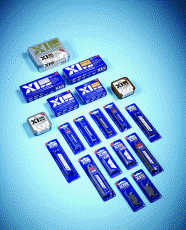 The innovative XL Premium Silver and Gold range from Jewel Blade Ltd is 100% Made in Sheffield England. Developed and manufactured to the highest of industry standards using a high-grade premium quality 1.25% Carbon Steel; the XL Premium Gold also boasts a Titanium Nitride (TiN) Coated blade edge offering increased blade strength which reduces the risk of blade breakage whilst improving the durability and cutting performance of these GREAT British blades.

Cutting edge blade manufacturing technology that includes high speed performance presses, specialised thermodynamic hardening and tempering heat treatment process as well utilising the latest blade edge grinding technology combine to ensure consistent honed precision of the XL Premium Range.

Jewel Blade's technical expertise along with innovative highly intelligent testing solutions ensures that the steel characteristics and blade edge geometries are analysed and monitored throughout Jewel's complex manufacturing processes. This guarantees a consistent molecular structure and enhanced cutting performance through superior blade edge retention for excellent durability along with precision razor sharpness. The final process sees every single XL Premium blade surface finished / polished for increased slip factor reducing friction in use, leading to a more productive longer lasting product.

Jewel Blade lead in setting the industry standards for the presentation of industrial products for trade, industry, and commercial use with their extensive diverse range of sales enhancing Retail Packaging as well as user friendly and bulk packaging options designed to meet your business, product environment, brand image/identity and customer requirements.

For more information on Jewel Blade's XL Premium Range please visit their website www.jewelblade.com

Make sure you visit Jewel Blade in Hall 10.1, Stand A.018 where they will be showcasing their XL premium range as well as unveiling their NEW Heavy Duty Folding Knife.