<![if !IE]> <![endif]>

Ghibli & Wirbel S.p.A.
Via Circonvallazione 5
27020 DORNO (PV)
Italy
List of product entries
This exhibitor shows the following products and commodity groups:

Product sector
Industrial Supply
Tools

Product emphasis
Power Tools (hand-held, stationary) and accessories
workshop and factory equipment, industrial supplies, protective equipment

Target and sales markets
Australia
Brazil
Canada
China
Colombia
East Africa
India
Japan
Mexico
Middle East
New Zealand
North Africa
Northern Europe
Others Central America
Others Eastern Europe
Others Oceania
Others South America
Russia
South Africa
South East Asia
Southern Europe
Turkey
USA
West Africa
Western Europe

Company & products
Products
TOOL PRO WDA 40 M AS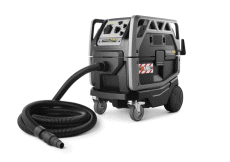 TOOL PRO WDA 40 M AS

Large capacity, sturdy and powerful wet and dry vacuum cleaner approved for M class dust. It is specifically designed to work in environments characterized by the presence of medium-risk dust such as those arising from hardwoods, stucco, paints, concrete. Compact and manageable, TOOL PRO WDA 40 M AS is ideal for use in industrial environments, craftsmen and construction sites. The innovative NONSTOPVAC! system, thanks to the automatic cleaning of the main filter through the reverse air flow, ensures a constant vacuuming and significantly reduces the downtime, allowing the operator to work without interruptions keeping high suction performance. Equipped with the power outlet for electric tool (max power 2400 W) and COMBI Kit for connecting pneumatic accessories (optional) that ensures an operating pressure of up to 10 bar. The machine can be switched on manually or automatically (controlled by the connected tool) and it is also possible to start the vacuum cleaner directly from the flexible hose thanks to the Remote Control Kit (optional). TOOL PRO WDA 40 M AS is available with antistatic accessories supplied, to protect against any electrostatic charges that may occur during work. It is also also suitable to obtain BG-BAU incentives!