<![if !IE]> <![endif]>

DG EUROPE BV
De Langeloop 12 1 1
1742 PB SCHAGEN
Netherlands
List of product entries
This exhibitor shows the following products and commodity groups:

Product emphasis
Power Tools (hand-held, stationary) and accessories

Target and sales markets
Northern Europe
Others Eastern Europe
Southern Europe
Western Europe

Company & products
Products
Saw blades for multitools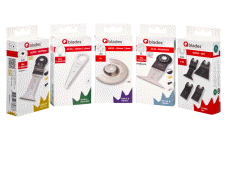 Saw blades and accessories of professional quality for all multitools. A high price-performance-ratio, our unique plastic-free packaging and a modular in-store-concept makes QBlades the ideal partner for the professional retail in construction, tools, hardware, installation and industry. Qblades is an independent accessorie brand that offers sawblades for all existing anchor-systems and thus, offers a solution for each brand of multitool. Looking for a solution for the new Starlock-system, the classical OIS or MultiMount system, the Open/Back system or the SuperCut system? We provide solutions for all these systems, all with the same level of quality, service and availability and all within one concept. In that way you can offer your customers the biggest choice.
Our track-record as supplier is exceptional: short terms of delivery, high stock, low MOQ, quick and reliable pre- and after-sales-service and personal support.