<![if !IE]> <![endif]>

ATHENA ABRASIVES SRL
Via Paolo Monelli 15
41042 FIORANO MODENESE (MO)
Italy
List of product entries
This exhibitor shows the following products and commodity groups:

Product emphasis
Hand Tools
Power Tools (hand-held, stationary) and accessories

Target and sales markets
Australia
Brazil
Canada
China
Colombia
East Africa
India
Japan
Mexico
Middle East
New Zealand
North Africa
Northern Europe
Others Central America
Others Eastern Europe
Others Oceania
Others South America
Russia
South Africa
South East Asia
Southern Europe
Turkey
USA
West Africa
Western Europe

Company & products
Products
SANDER WHEELS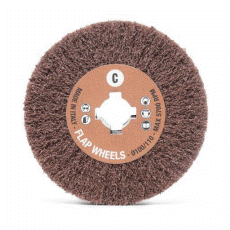 Sander wheels are composed of sheets of non-woven fabric abrasive and are used on portable, manual sanders. They are suitable for the decorative sanding of various types of metal, such as steel alloys, aluminium, copper and brass. They allow for a homogeneous finish without defects and to be able to work both small and large surface areas. Sander wheels are also used for the removal of layers of oxide, the working of hard plastic materials and for particular types of wood.