<![if !IE]> <![endif]>

List of product entries

This exhibitor shows the following products and commodity groups:

Product sector
Industrial Supply

Product emphasis
workshop and factory equipment, industrial supplies, protective equipment

Target and sales markets
Brazil
Canada
Colombia
India
Mexico
Middle East
North Africa
Northern Europe
Others Central America
Others Eastern Europe
Others South America
Russia
South East Asia
Southern Europe
USA
Western Europe

Brands:

Elsea
Elsea All Black
XTOOL
Company & products
Products
X-TOOL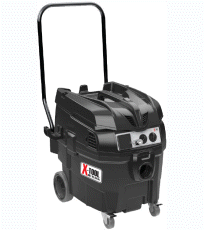 The X-Tool is our professional vacuum cleaner designed for construction sites, workshops, car body shops and all craftsmen activities. The machine is equipped with a large filtering surface and has an excellent working autonomy with all kind of fine and humid dust. When the HEPA filters are clogged, it is possible to clean them automatically without interruptions. The electroic system guarantess a soft start mode for starting the suction motor and the automatic switch-off when liquids are full in addiction with the AUTOMATIC STARTER used with the electric and/or pneumatic tool.
Trademark

Elsea

---

Elsea All Black

---

XTOOL